About Us
Whalom Park Carousel Whirls Again
On July 22nd, 2000 the Grand Carousel at Whalom Park in Lunenburg, Massachusetts reopened to the public! After the carousel was sold piecemeal at auction on April 15th, 2000 no one thought the carousel would ever spin again. Now, the Whalom Park Carousel Association has started the unprecedented, and seemingly impossible, work of putting the carousel and its 58 hand-carved figures back together again.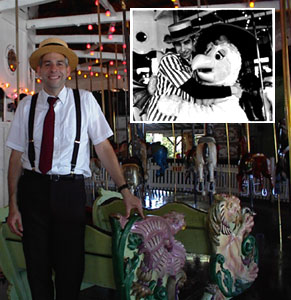 At the carousel auction in April, Mark Chester, a past operator of the ride, bought the entire frame of the carousel (everything except the carvings) with the hopes of putting it back together. He and Allyson Bowen, also a previous employee of the Park, formed the Carousel Association to do just that. The frame is being refurbished and restored and all the-hand carved animals are being bought back from, or donated by, the people who purchased them at the auction.
On July 22nd, 2000 the carousel opened in the exact same place in which it ran last season: Whalom Park. Six of the 34 menagerie animals prancing along the platform are original to the machine: the giraffe Ellen, jumpers Betty, Tim and Martha, and the chariots Ina and Marcy. Twenty years ago, all of the animals were given names of family, friends and park employees by the last restorer of the carousel, Beth Bowen.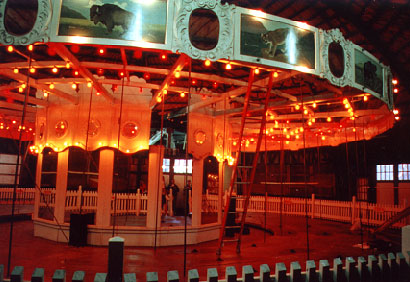 The original menagerie animals on the machine were handcarved by Charles I.D. Looff, one of the preeminent carvers of the golden age of carousels. The carvings span his career and his carving styles, dating from the 1880s to the 1900s. Some of the rarer carvings, like the four greyhounds that graced the platform of the Whalom carousel, are valued at over $70,000. They were all pulled together into one machine for the first time in 1909 by William F. Mangels, the engineer and inventor who designed and built the frame of this carousel. The carousel was brought to Whalom a few years later, in 1914, where it has entertained generations of children and adults ever since.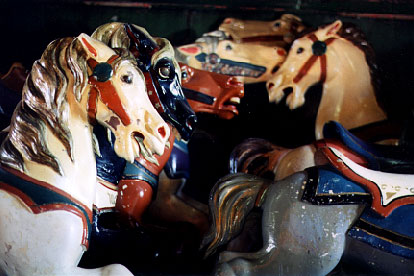 The Whalom Park Carousel reopened to the public at 12 noon on Saturday, July 22, 2000 at Whalom Park. Unfortunately, the carousel and the Park closed on Labor Day of 2000 and have yet to be reopened.